Are you ready to reap the benefits of a truly revolutionary deck? Hope's Heart Tarot™ is beautifully illustrated, featuring 4.5-inch diameter round cards, color-coded suits, guidance words, and a gorgeous velveteen drawstring bag. Whether reading for yourself, friends or clients, Hope's Heart Tarot™ is a wonderful choice for insight, inspiration and empowerment. Available exclusively at http://prairiemagic.com/hopes-heart-tarot-cards/
Check out these 8 GR8 Features!
1 - Round Shape
Let's face it: Most things aren't yes/no, black/white, this/that.
Our complicated world requires more options.
Shouldn't your Tarot cards reflect that reality?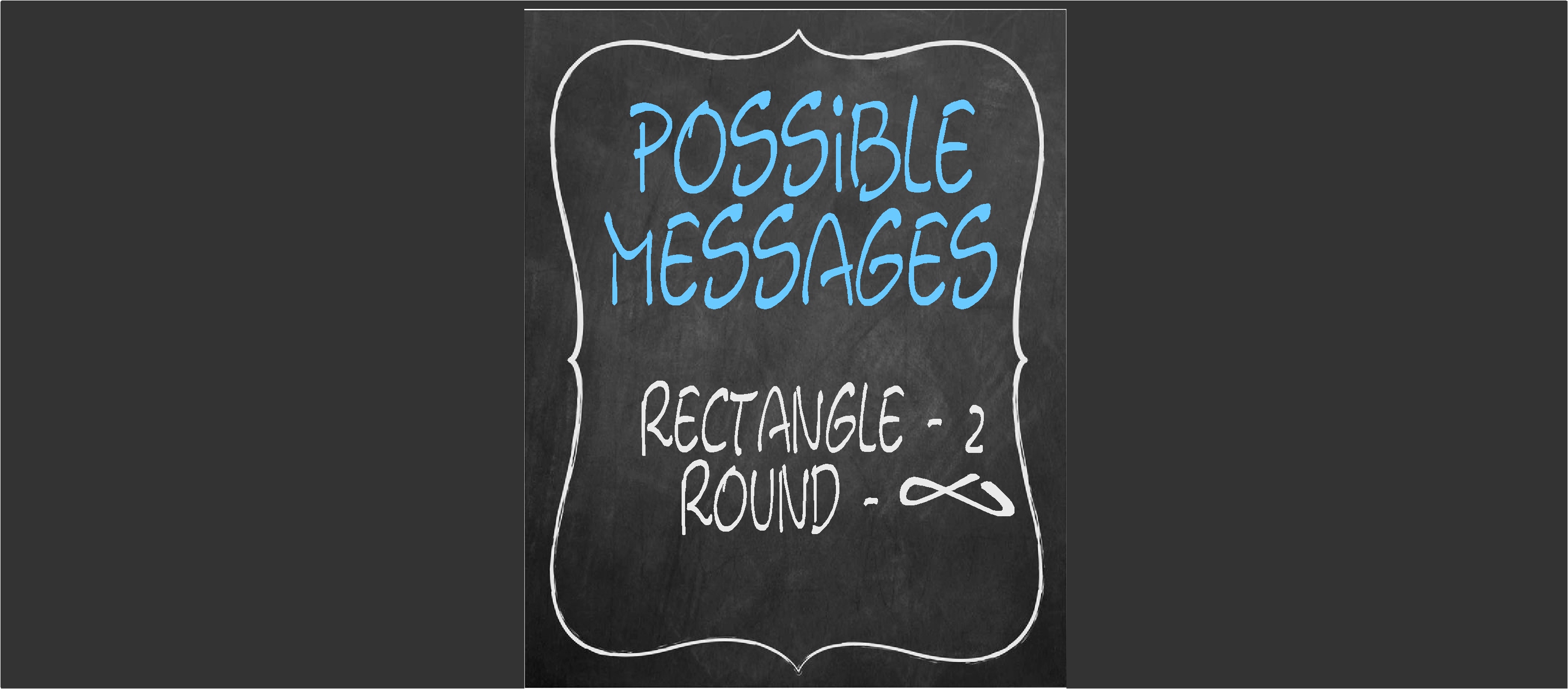 The Death card is a great example. As the card turns clockwise from Loss to Courage & Strength, the meanings become more powerful. In a layout, perhaps the card is turned only slightly from The Scorpion to The Eagle, indicating a willingness to move on. If the card lands in a position that is turned to almost The Eagle, a spirit of Courage & Strength is replacing the pain of Loss. Round-shaped cards are instrumental in determining where we are in the process of growth and enlightenment.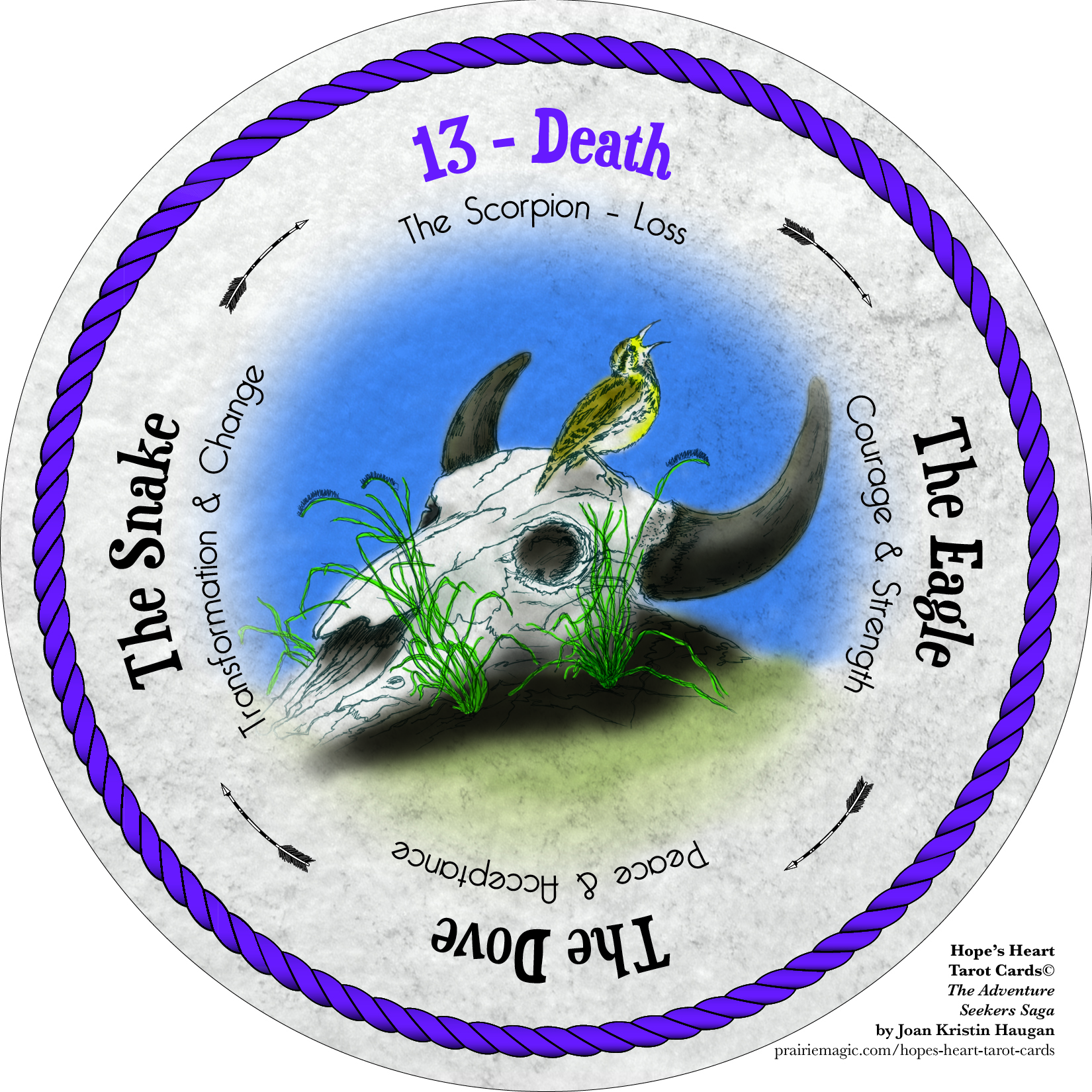 According to the Reviews of Hope's Heart Tarot™ found on this website, happy customers reported the following:
"I specially love the round design so there can be so many 'degrees' of the reading based on how they are turned. In regular tarot you either have the upright or reversed and life has so many additional possibilities."

"This deck is just beautiful and mystical. The cards are round reminding me of the ever changing circle of life."
2 - Color-Coded
Hope's Heart Tarot™ card suits are color coded for easy identification.
The Minor Arcana is specified as:
Red: Cups (love - hearts are usually red)

Green: Coins (money - dollar bills are green)

Brown: Wands (energy and vitality - a brown stick can be set on fire)

Blue: Swords (clarity and truth - clear skies for a clear mind)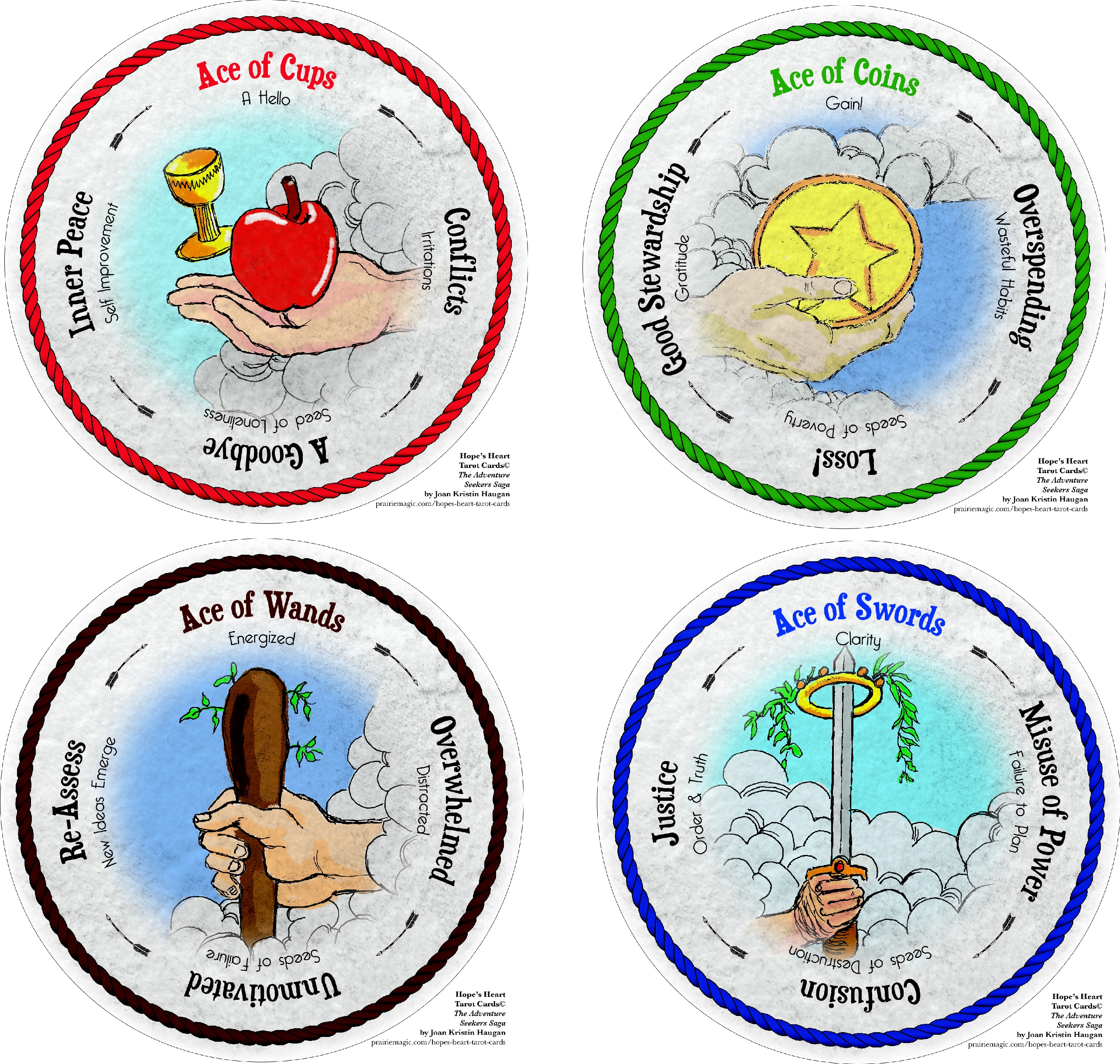 The Major Arcana is specified as purple for divinity.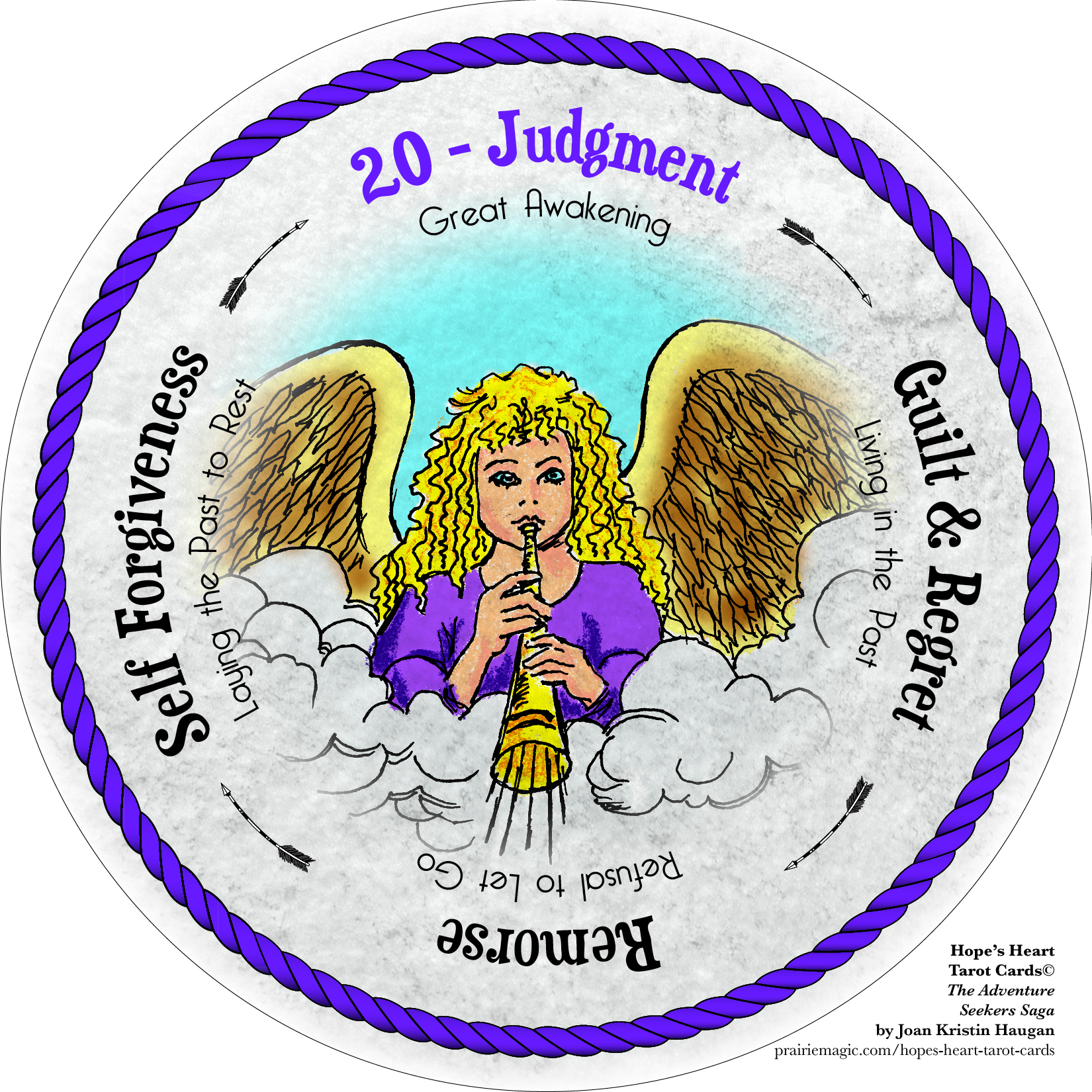 3 - Descriptive text
Guidance words are printed on cards for easy read interpretation. Tarot newbies love this feature! Professional readers favor description text because it helps their clients grasp Tarot concepts.
Card messages progress in a clockwise direction, as indicated by arrows between phrases. In this example, the Three of Wands can approach any of these four positions:
Straight up - Virtue. The client is properly directing his or her energy towards noble pursuits.

Turned 1/4 to the right - Lack of Foresight. Virtue is now being tarnished. Perhaps someone underestimated challenges? The client should regain Virtue or risk the slippery slope of Misadventure.

Reversed - Misadventure. Wasted Energy. Ugh. Time to regroup. When the card lands near the reversed position, the client should consider the remedy of the next position.

Turned 3/4 to the right - Embrace Change. A Misadventure will turn around with Study and Practice. With some effort, Virtue will be restored.
Hope's Heart Tarot™ cards describe challenges and offer remedy as messages progress in a clockwise rotation.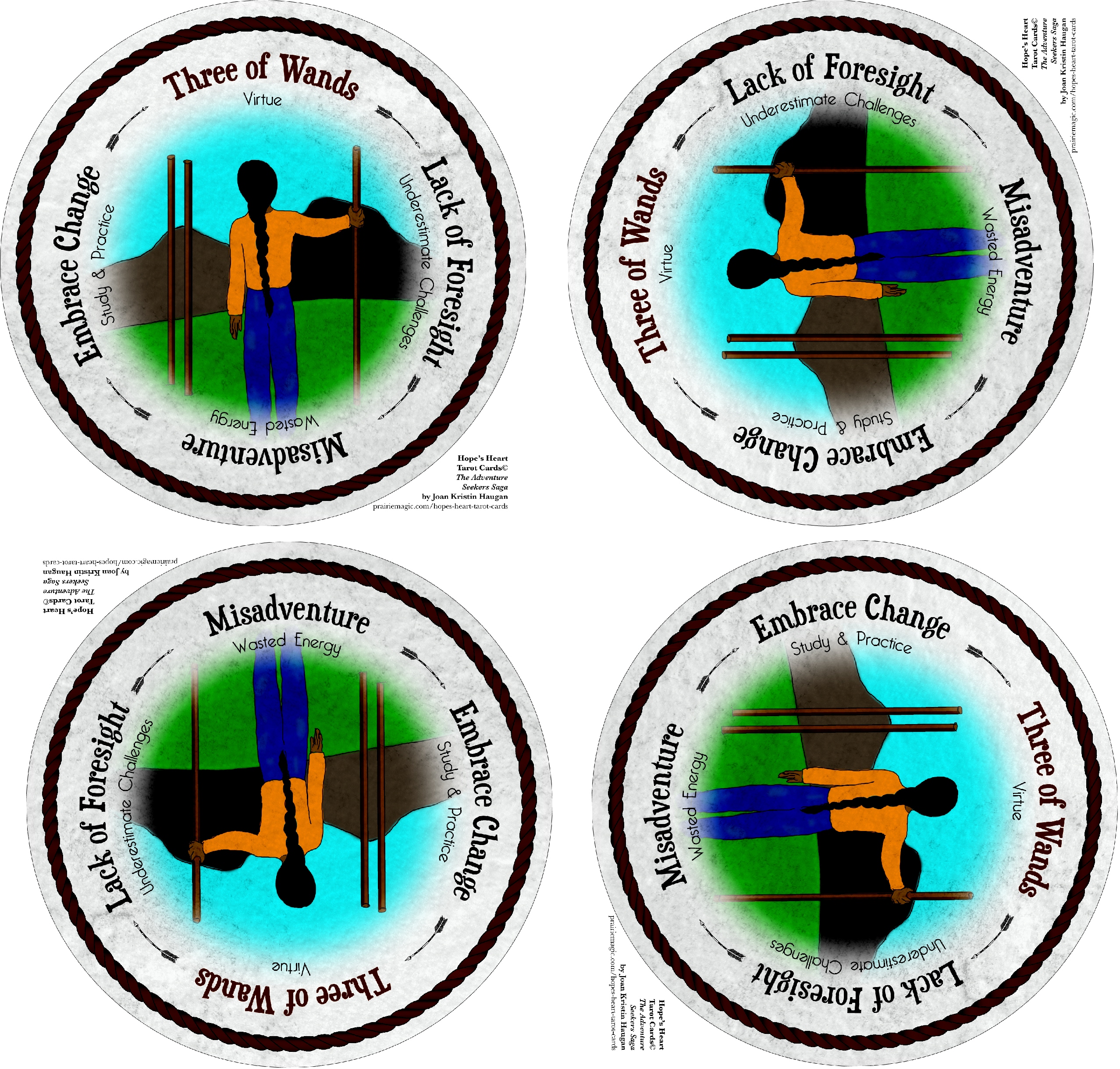 4 - Fear replaces The Devil card
It was never about "him". It was always about fear.
So we kicked "him" out of the deck.
A rattlesnake is just as scary, anyway.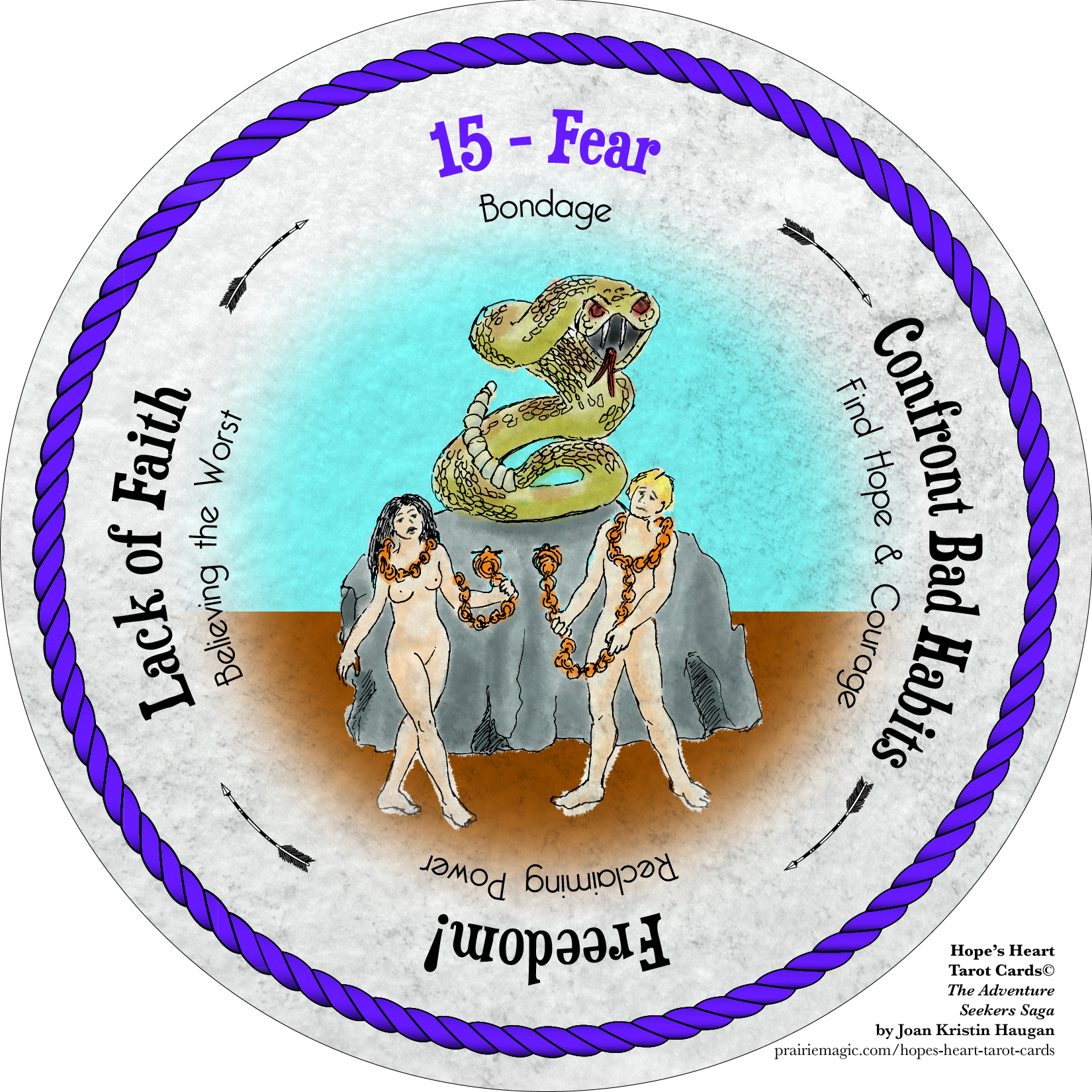 5 - The Seeker replaces The Fool
Those seeking wisdom are called Seekers. It's just easier this way.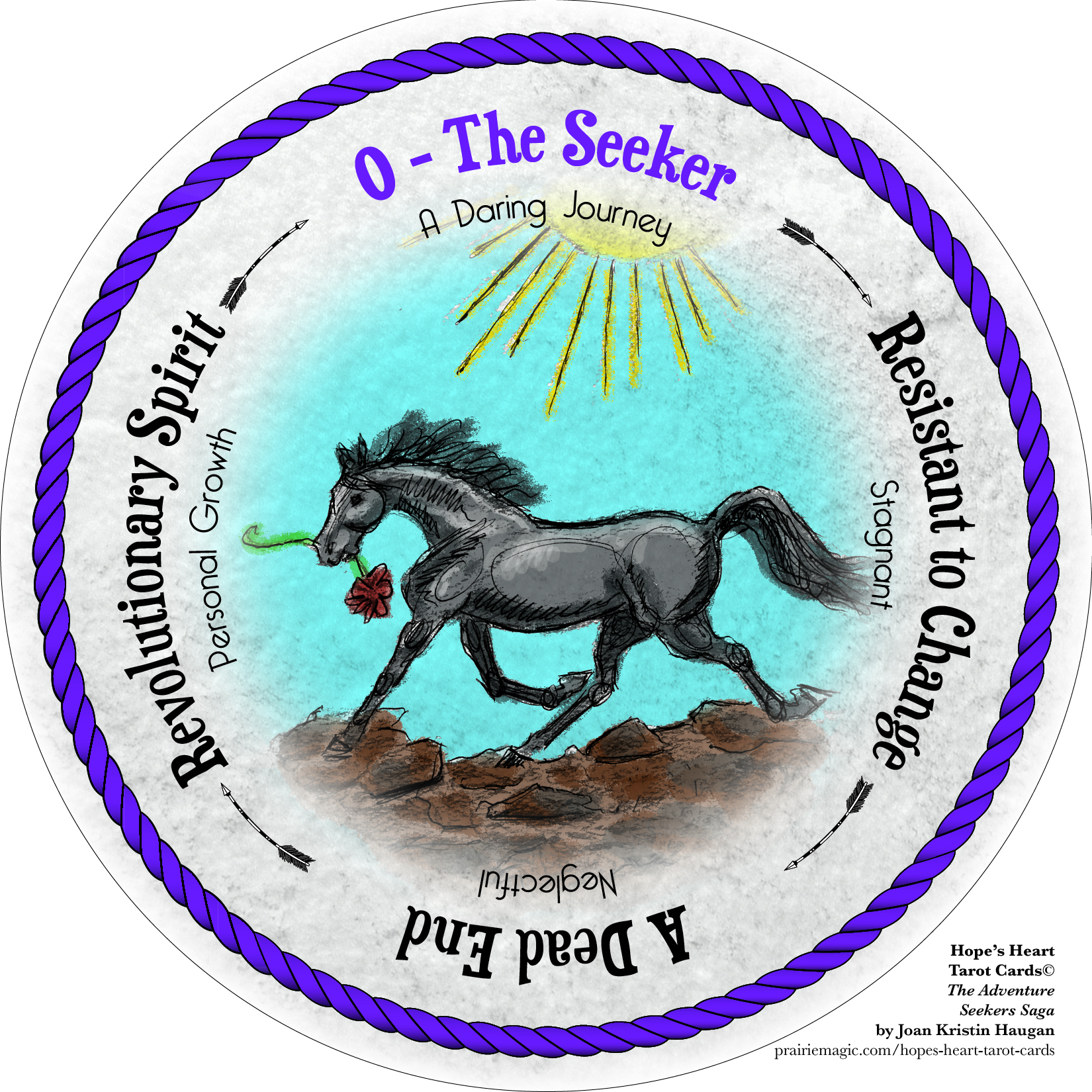 6 - Relatable Court Cards
The Pages, Knights, Queens and Kings are modernized and relatable. Labels on the upright and reversed positions help identify characteristics. Guidance text along either side describe pitfalls and remedies.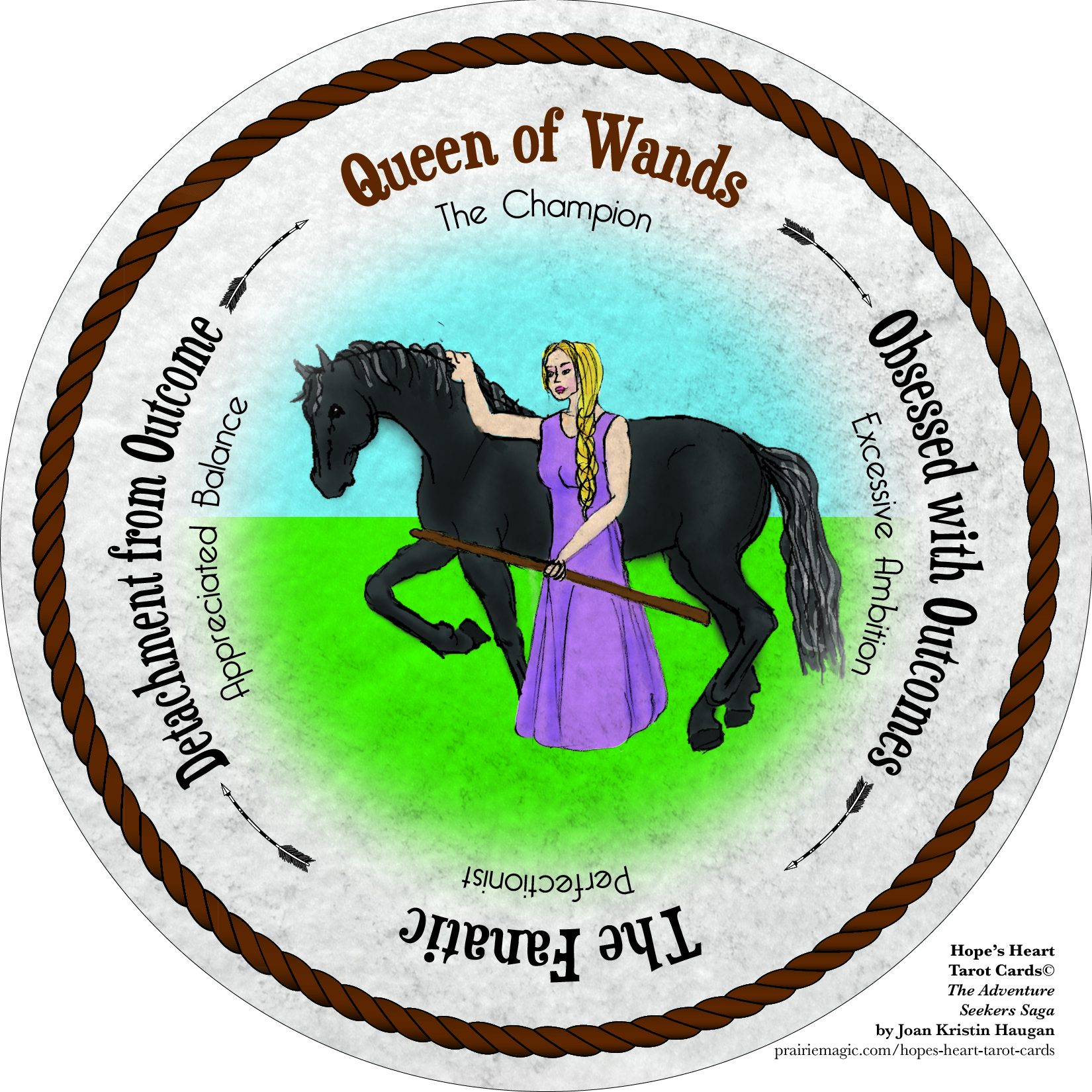 7 - Card illustrations feature The Adventure Seekers Saga characters and scenarios
The award-winning Adventure Seekers Saga is a series of four visionary fiction novels beautifully illustrated with original Odin's Runes™ and Hope's Heart Tarot™ cards. The fast-paced adventure, liberally sprinkled with witty banter and comical situations, takes place in a setting you'd like to visit with characters you'd love to meet. Throughout the series, ancient wisdom helps our heroes conquer modern-day problems as they muse about Tarot cards and moon over Rune stones.
8 - A gorgeous deck and beautiful bag
Hope's Heart Tarot™ includes a 78-card deck plus 2 informational cards and a lush drawstring bag, large enough to hold other decks, crystals, essential oils, or other tools of light. For more information, visit www.PrairieMagic.com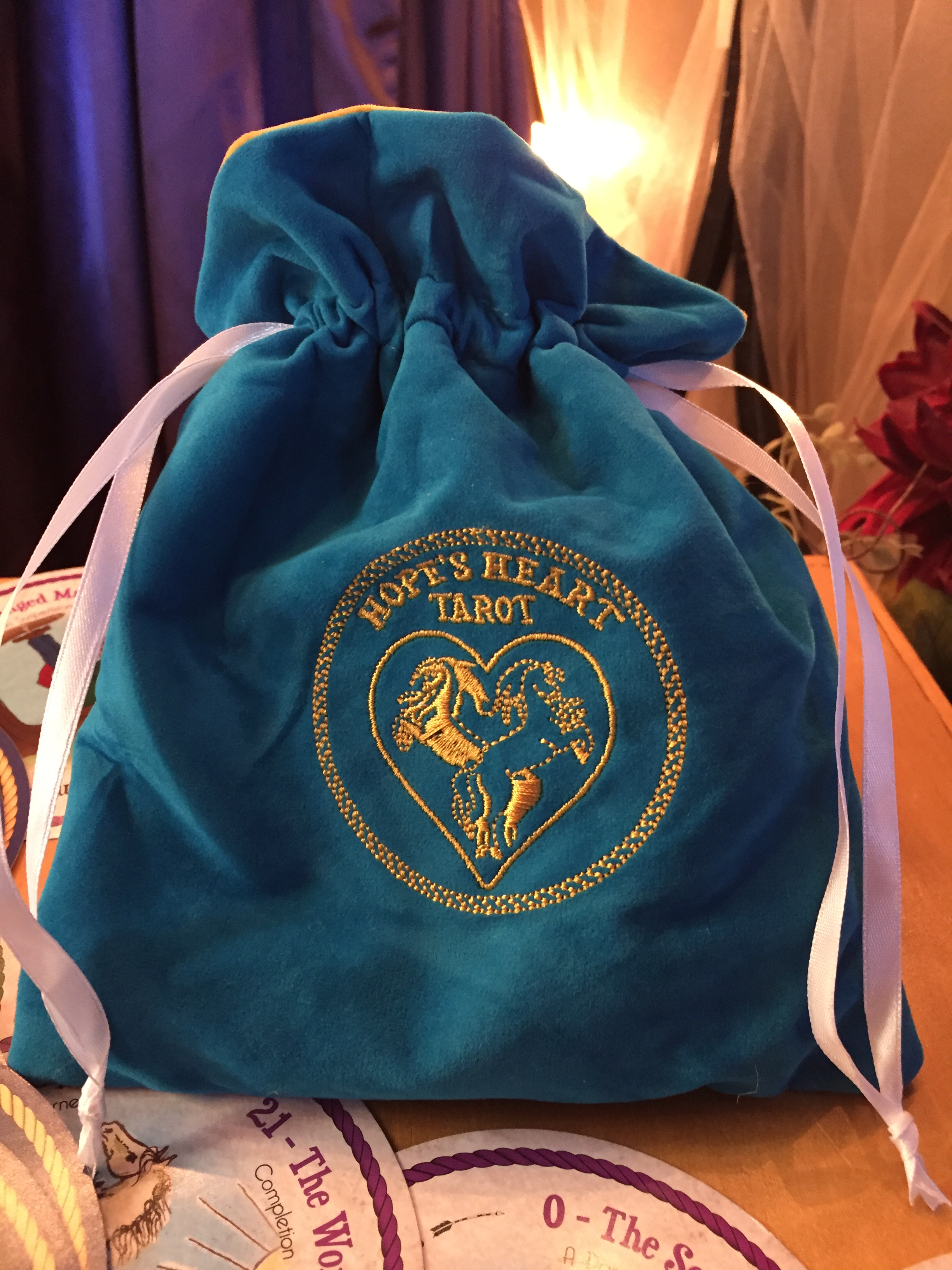 About the Author
Author Joan Kristin Haugan is a master of Tarot cards, Rune stones and Reiki energy healing. She is knowledgeable in the use and application of essential oils and is well-versed in their healing properties. A graduate of the South Dakota School of Mines and Technology with a bachelor's degree in the field of Geological Engineering, as well as a master's degree in Business Administration (MBA) from the University of South Dakota, she worked for a time as an environmental engineer before going into business with her beloved husband. Together, they own J&J Optical and the Sturgis Hitchin' Post in Sturgis, South Dakota.
The award-winning Adventure Seekers Saga incorporates ancient wisdom in the form of an entertaining story. Learn about Tarot cards, Rune stones, essential oils, juicing, positive thinking and astrology signs in these fun and exciting visionary fiction books. Order your copies today at www.prairiemagic.com
Hope's Heart Tarot Cards: Reap the benefits of Tarot wisdom with this easy-to-read deck! Meaningful figures reveal card messages while wording at 90-degree intervals denotes interpretations. Order your deck today from www.prairiemagic.com
Odin's Runes: Finally, a deck that makes Rune throwing easy for everyone! Colorful images support symbol meanings for each of the 24 letters of the Elder FURThARK. Text on the flip side interprets card orientation in 90-degree increments. Odin's Rune deck is a wonderful tool for everyone, from beginners to professionals. Order your deck today from www.prairiemagic.com